WaterRower Natural is handcrafted in solid ash and features a Honey Oak stain finished in Danish oil.  Wood is an excellent material for this application due to its ability to absorb sound and vibration enhancing the WaterRower's smooth, quiet operation.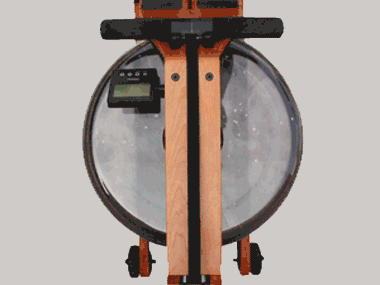 Water Resistance

The benefit of a water resistance rower is that it most closely simulates a boat moving through water. Rowing resistance comes from the effect of fluid drag acting on the boat; in other words, resistance increases according to stroke rate. The patented WaterFlywheel emulates this naturally self-paced benefit of rowing. This is a workout with immediate benefits, regardless of your level of experience! Please also note that you can adjust the workout intensity by changing the amount of water in the tank. The more water, the higher the effort level required.

Ergonomic Seat

The Natural in Ash (S4)'s ergonomically molded seat sits on two rails, with eight precision-crafted wheels for flawless rolling motion. Virtually Indestructible Tank The tank of the Natural in Ash (S4) is made from polycarbonate, one of the strongest plastics available. It is virtually indestructible. The tank is sealed and can be filled with municipal water via a small opening closed by a stopper. This water typically contains enough chlorine to remain clear for some time. After exposure to light, the chlorine will degrade; the chlorine tablets included free with purchase should be added periodically.

5-year Warranty on Frame!

WaterRower is confident that they have the highest of quality products and to back that up they offer a 5-year warranty on their frame. Ergonomically Designed Footrest The footboard incorporates an all-new floating heel-rest design. The cup of the heel rest follows the heel as it rises from the footboard, providing stability and comfort from the beginning to end of each stroke. The heel-rest position is adjusted simply by pressing the central button to disengage the lock pins securing the footpads.

Aluminum Rowing Handle

The handle is made of aluminum for strength and lightness, with a tear-drop shape that fits comfortably into the palm of the hand to minimize wrist torque (a common cause of tendonitis). Because of its strength and lightness, the drive strap is high-density polyester webbing, guided by nylon pulleys. The drive strap does not wear and is maintenance-free, requiring no messy lubrication.

WaterRower construction is a premium hardwood with incredible longevity and dimensional stability. WaterRower is committed to the environment and only source wood harvested from sustainably managed forests where growth exceeds removal by 229%
INCLUDES S4 PERFORMANCE MONITOR
ALSO INCLUDES:  Home Training DVD, Owners Manual, Syphon Pump, Water Purification Tablets, Allen Key 
ADDITIONAL INFOMARTION
Workout Monitor
S4 Performance Monitor
Heart Rate Monitoring
available for this model with additional kit (sold separately)
Max. User Weight
200kg
Condition
New
Dimension

In Use: Length - 82.25" / 209 cm, Width - 22.25" / 57 cm, Height - 20" / 51 cm

Stored: Depth - 20" / 51 cm, Width - 22.25" / 57 cm, Height - 82.25" / 209 cm

Weight: 66.5 lbs / 30.5 kg (dry), 103.5 lb / 47 kg (17 l of water)

Warranty
3 Year Parts / 5 Year Frame